Pha Din Pass tourist area is located on the top of the majestic Pha Din Pass, with an altitude of 1,600m above sea level, the climate here is cool all year round, creating opportunities for flowers and plants to develop. Thanks to the beautiful natural scenery and the beautiful valley of flowers in four seasons, Pha Din Pass attracts thousands of visitors to visit, check-in and experience food.

Pha Din Ecotourism Area is
located on top
of Pha Din pass
, about 100km from Dien Bien Phu city.
The resort was built in 2016 based on the idea of ​​wanting to build a stopover and rest for visitors to enjoy the scenery and play.
Pha Din Pass campus is 50ha wide and divided into many spaces for tourists to enjoy sightseeing, taking pictures, eating and playing.
In particular, the valley of flowers filled with colors will help tourists have the best "virtual living" pictures.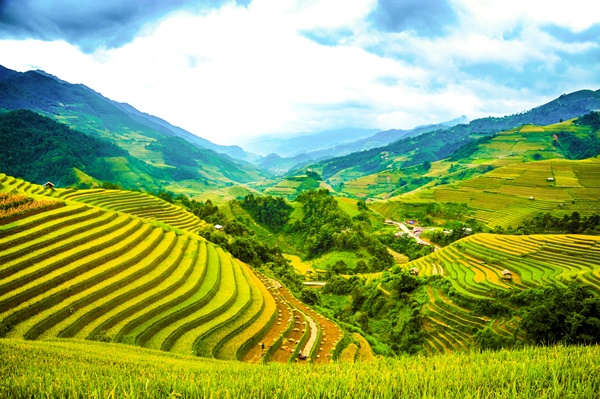 How to move to Pha Din Pass tourist area?
Pha Din Pass is located about 350km from Hanoi, to get here, visitors can choose to travel by passenger car. The bus routes can refer to Hai Van (schedule from My Dinh - Tuan Giao - Dien Bien, ticket price 250k / person (holidays + 30k / day).
If you want to spend the night at Pha Din Pass tourist area, you can refer to some unique homestay in Pha Din Pass . Room rates are relatively cheap, about 200,000 VND / person / night. Add a 3rd person, the price will add 50,000 / person. In addition to homestay, tourists can also stay at a guesthouse located in a romantic pine hill.
Experiences can not be ignored when coming to Pha Din Pass tourist area



Check-in, take pictures in the valley of flowers and romantic pinwheel hills
The climate on Pha Din pass all year round develops, creating conditions for flora to develop, especially flowers. In the valley, thousands of sunflowers, triangles, mustard greens, yellow chrysanthemums, hydrangeas, and five colors bloom, making this place poetic and peaceful.
The flowers here are cultivated seasonally by the owner, so each time you visit you will be able to admire different types of flowers. Ticket price to visit the flower garden in Pha Din Pass is 10,000 VND / person / time (no time limit).
Every season there are many tourists to visit, especially the young. One of the activities that they love the most is checking - in, taking pictures "virtual life" among the fields of colorful flowers.
In addition, Pha Din Pass tourist area also decorates the surrounding space with unique and beautiful concepts. For example, pinwheel hill, windmill, swings, hut, stone stairway ... Visitors can pose and take the best pictures.
In addition to taking pictures, visitors can zoom out to admire the majestic mountains and picturesque villages.
Each season, the valley of flowers puts on a new, vibrant and gorgeous color.
Spring and autumn are the time when flowers in the valley bloom the most and most brilliantly, so this time Pha Din Pass also welcomes the most visitors.
Visitors can both watch the flowers, take pictures, play the swing or walk on green trails, intermingled with the beautiful natural scenery of plum orchards.
Great experience when camping among the romantic pine hill
Not only the flower valley, Pha Din Pass tourist area has green pine hill, this place is for young people or families to rent tents to rest. Visitors will experience authentic country life. Camping in the hills in the eco-tourism area, the barbecue, charcoal is always ready to serve.
What is more wonderful than being immersed in the beautiful nature, grilled meat together, grilled fish, chatting and enjoying delicious food. These moments will dispel the fatigue and stress of the chaotic life on the outside.
Enjoy unique cuisine with bold flavors of Northwestern mountains
Thanks to the cool year-round climate, sometimes a bit chilly in the afternoon, visitors can enjoy unique barbecue dishes such as skewers, grilled vegetables, grilled chicken, grilled fish, piglets stealing armpits, rice lam will conquer customers at first sight. The way is simple, old-fashioned, but the taste is delicious, rich, and difficult to get anywhere.
Some unique dishes created by indigenous people such as Nam Loc Goat, also make tourists unforgettable. In the midst of a romantic mountain and forest space, being gathered together to enjoy delicious dishes, bold mountain forests will be an unforgettable experience for visitors when visiting this resort.
Pha Din Pass tourist area is an ideal destination for those who like to immerse themselves in the majestic and beautiful nature. To tourism in Dien Bien , visitors do not miss the opportunity to visit the valley blooming flowers 4 seasons and experience the rural lifestyle, exciting them!